We have something for everyone:
Teacher training - CPD for teaching colleagues on Friday 18th September.
Kids coding - Young coders take over on Saturday 19th September!
Teachers
Programme
08:00
Registration / Breakfast
09:30
Opening Plenary (main conference centre)
10:30

Minecraft in Education (program Minecraft with Python) - Dave Ames, Sarah Zaman and Martin O'Hanlon
First steps with Python (what is this Python anyway?)- Alan O'Donohoe

11:20

Skycademy (weather balloons and progammable payloads) - James Robinson
PyGame Zero (the simplest way to write games with Python) - Dave Ames

12:10

Your Code in Space with AstroPi (Python in the final frontier) - Carrie Anne Philbin
Code Club (extra-curricular programming clubs) - Cat Lamin and Tim Wilson

13:00
LUNCH (main conference centre)
14:00
All hands resource generation, un-conference and adopt a developer
16:00
TeachMeet
18:00
Free diversity and education reception (main conference centre)
19:30
Charity social event in memory of John Pinner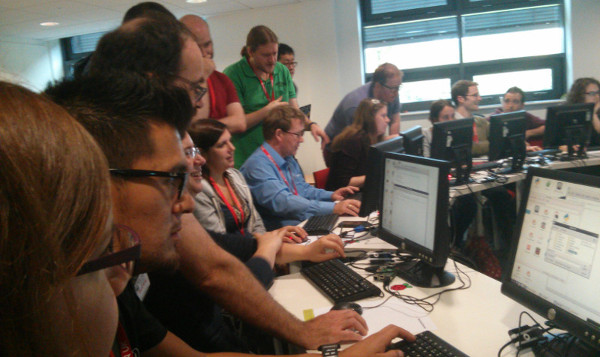 Learn Python from professional Python programmers.
Learn to teach Python from experts such as the Raspberry Pi Foundation education team, Jam Packed and other teaching colleagues.
Return to your classroom with ideas, contacts, resources and confidence.
Thanks to the generous sponsorship of Bank of America Merrill Lynch, full conference tickets for teachers only cost £50 (not including the conference meal). We also have bursaries of £200 per teacher towards the cost of supply cover at school - there should be no financial reason for headteachers to say you can't attend. We've literally got you covered.
Sign up here and purchase a teacher's ticket.
Kids' Day
Programme
08:00
Registration / Breakfast
09:30
Opening in the Simulation Centre
10:00

Minecraft (program cool stuff in Minecraft with Python)
Code Club (never programmed? Learn the basics of Python)
Your Code in Space (use Python to explore the final frontier)
Internet of Toys (bring along a toy and "hack" it into something more interesting)

EVERYONE SWAP
11:15

Minecraft
Code Club
Your Code in Space
Internet of Toys

12:30
LUNCH (a selection of picnic boxes)
13:00
Freestyle code jam
15:00
Wrap up / show and tell
15:30
Lightning Kids (presentations to the main conference)
16:00
Home time!
We will be holding a Raspberry Jam where participants of all ages will get to play, code, learn and share all things programming in Python on a RaspberryPi and any other device we can get to work.
We aim to run various workshops aimed at young beginner Pythonistas throughout the day. These will include web design, robotics, Minecraft and physical computing. Our aim is to turn excited kids into exhausted but inspired proto-programmers. :-)
The cost is only £5 per child and parents/guardians get in for free. Book here.